Glasses with the FL-41 tint are great for photophobia associated with migraine and other light sensitive conditions. Research shows that FL-41 glasses relieve painful light sensitivity, reduce migraine attacks, and protect from fluorescent lighting by filtering the blue wavelengths of light that cause the most pain response. TheraSpecs block up to 25 times more of this harmful light than other blue light glasses.1 But not all FL-41 tinted glasses are equal. Unlike other FL-41 glasses, TheraSpecs lenses are measured to verify they are blocking the right amount of the most problematic wavelengths and their frames are designed to maximize relief.
---
Designed for Maximum Relief
TheraSpecs are the only FL-41 glasses designed specifically for migraine sufferers and people who have light sensitivity. Many existing styles effectively block light from above and the sides, and all TheraSpecs are ultra-lightweight and flexible to minimize pressure on already-sensitive heads. The FL-41 tint cannot be added to existing lenses, but prescription TheraSpecs can be created with our precision tint. Custom frames—in any style you choose, including clip ons—can also be fitted with TheraSpecs lenses.
---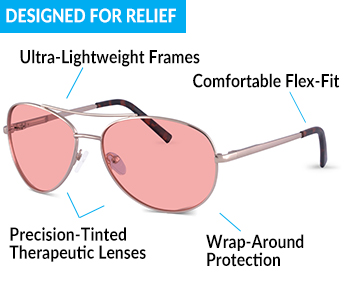 Research shows that FL-41 lenses:
Relieve painful light sensitivity

Reduce migraines and headaches

Offer protection from fluorescent lights
---
FL-41 Glasses Reviews
Thousands have tried TheraSpecs, and nearly 90% have found some level of relief of their light sensitivity and migraine symptoms. Here is some of their feedback.
See more TheraSpecs reviews ➜
---
How to Buy TheraSpecs FL-41 Tinted Glasses
TheraSpecs can be purchased quickly, easily, and securely through our online store. Whether you live in the US, UK, and Canada, we are able to ship them to just about anywhere in the world. In-stock pairs ship the same or next business day; custom orders take approximately 15 business days.
60 Day Guarantee
While nearly 90% of those who try TheraSpecs experience relief, we also know that every brain responds differently. If they don't help, you can always return your undamaged pair back within 60 days of purchase for a full refund. We never want you to feel stuck with a product that does not work with you. (Note: we are unable to refund prescription and custom orders)
Try them and see how they can help you or your loved one take control, stop fearing the light, and find relief!
---
References:
1Visible light transmission by wavelength measured using f.luxometer software https://fluxometer.com/page/measure/
Secure Shopping
60-day return guarantee
Free shipping on US orders