Glaucoma is one of dozens of conditions that can cause or aggravate painful light sensitivity (also known as photophobia) and reactions to glare. This is primarily due to increased pressure in the eye, which can result in a number of visual problems. TheraSpecs precision tinted glasses are the best for reducing glaucoma related light sensitivity and photophobia.
Glaucoma glasses and sunglasses reduce light sensitivity
TheraSpecs indoor glaucoma glasses and outdoor glaucoma sunglasses are a natural source of relief for light sensitivity. The TheraSpecs tint—which has been proven effective for other eye-related conditions (such as blepharospasm)—blocks the part of light that can be most painful for a person with glaucoma. Their indoor lenses minimize the impact of blue and green light from fluorescent lighting, which is a common trigger for many with photophobia, as well as other artificial light. TheraSpecs outdoor sunglasses for glaucoma have the same therapeutic tint on a darker and polarized lens to reduce bright sunlight and harsh outside glare.
Why not just wear sunglasses? It may be surprising to learn that dark sunglasses can actually increase photophobia when worn regularly indoors. The TheraSpecs indoor tint is lighter, while still filtering the most harmful wavelengths, to provide effective relief without side effects. Similarly, TheraSpecs outdoor lenses can be a great option for people with glaucoma who find that wearing normal sunglasses outside do not provide enough protection against bright light and glare. Plus, TheraSpecs indoor and outdoor glasses are 100% UVA/UVB blocking.
---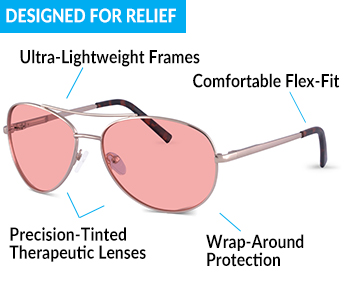 Research shows that TheraSpecs:
Relieve painful light sensitivity

Minimize fluorescent light pain

Reduce migraine attacks and headaches
---
What Customers Are Saying
★★★★★
"I am partially blind, and have excessive light sensitivity from a concussion from going partially blind from glaucoma. The (fitover) glasses have been a blessing for over 1 1/2 years..."
Diane I.
La Canada, California
---
★★★★★
"As an 82 year old woman who has had migraines since age 14 and glaucoma for 30 years my eyes are very light sensitive. I have found TheraSpecs very helpful with reducing migraines and reducing the tearing I was having while watching TV or using the computer."
Peggy K.
Santa Fe, New Mexico
---
Where to purchase TheraSpecs glaucoma glasses
TheraSpecs glasses and sunglasses for glaucoma can be ordered safely, securely and easily online at www.theraspecs.com. We ship just about anywhere in the world and even have a free shipping option for those who reside in the United States.
60 Day Money Back Guarantee
If light triggers or worsens your glaucoma or you otherwise experience painful photophobia, we think TheraSpecs can help. But if you give them a try and they do not bring you relief, you can return all non-prescription TheraSpecs within 60 days of purchase, and we will refund your money. We never want you to feel as though you are stuck with a product that does not work.
Secure Shopping
60-day return guarantee
Free shipping on US orders