A 2017 TheraSpecs® Company Report

Millions across the world live with chronic light sensitivity. Many experience it as a painful intolerance to light (medically known as photophobia), but exposure to light—even at normal levels—can also trigger other symptoms of underlying conditions like migraine or post-concussion syndrome. Patients are faced with significant physical, emotional, professional, and social costs with all forms of light sensitivity. However, the extent of this impact is not well known due to gaps in existing research. The TheraSpecs team sought to fill in these gaps with a survey of 385 light-sensitive individuals to better understand how people experience this often debilitating symptom. Here are some of the noteworthy findings.
You can also check out a short video below or infographic as well.
---
Light sensitivity can be as chronic as the conditions that are often associated with it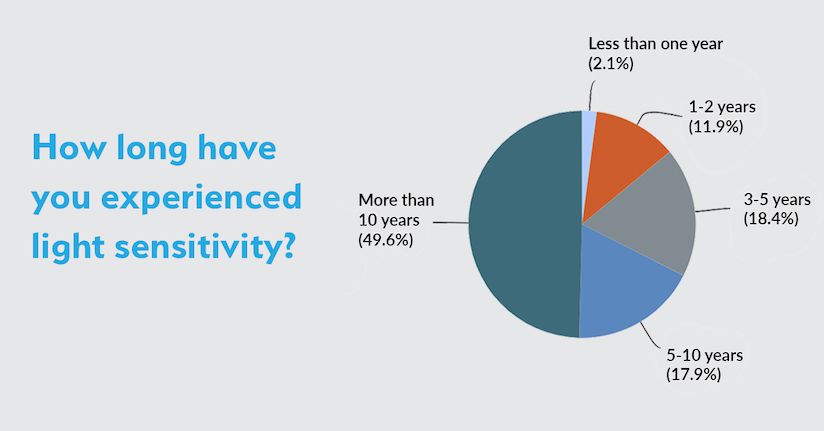 Almost half of the light-sensitive individuals who completed the survey have been dealing with it for more than 10 years. Among those with a self-reported migraine or other chronic headache diagnosis, the numbers are even higher. And 71% of fibromyalgia patients acknowledged they have been living with light sensitivity for more than a decade. This finding underscores the fact that light sensitivity can be a chronic problem for many people—one that does not simply resolve itself over time nor one that can be easily or directly treated.
---
Light may be more of a trigger than research suggests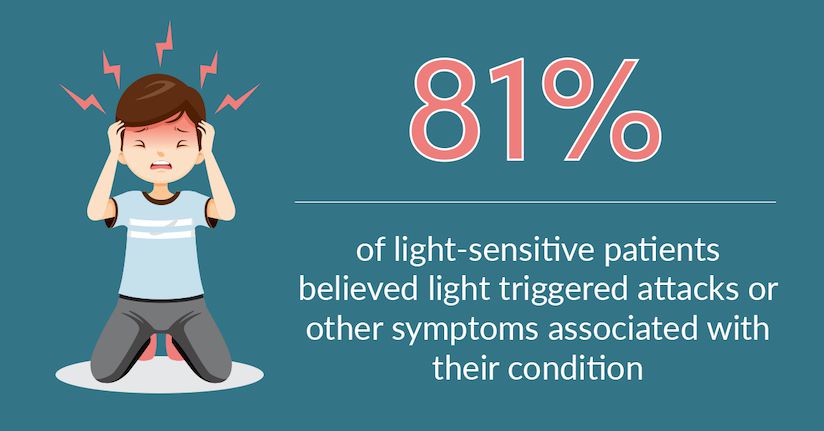 Light may trigger other symptoms of chronic conditions more than current clinical understanding would suggest. In fact, 81% of respondents cited that light can directly trigger flares or attacks or otherwise worsen the symptoms of their condition. For example, light exposure can bring on vertigo or dizziness in people with post-concussion syndrome or increase the head pain and nausea of someone with migraine. Of course, one of those symptoms can also be painful sensitivity to light (photophobia). More specifically, 97% of respondents with fibromyalgia and 88% of those with migraine had attacks triggered or symptoms worsened by light. These findings are significantly higher than what has been reported in previous research.1-2
---
Light sensitivity may affect fibromyalgia patients more between attacks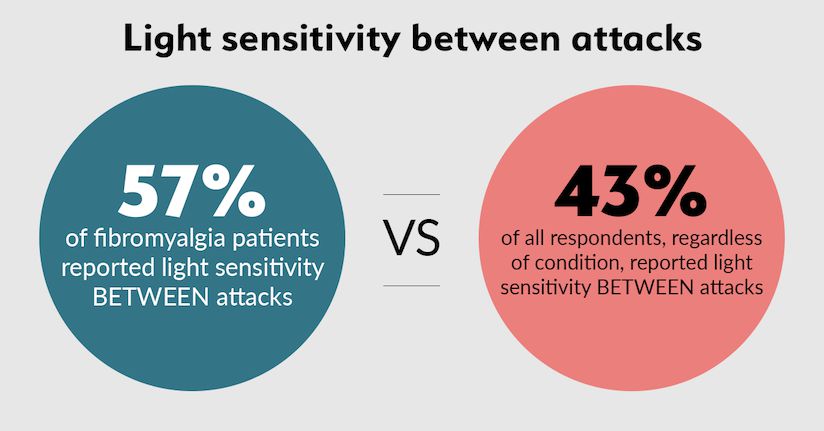 People with chronic sensitivity to light also report higher levels of light-related pain between attacks or flares (known as 'interictal' photophobia). We learned that 43% of all survey respondents—regardless of condition—experience this. Light sensitivity between attacks varied depending on a person's underlying condition. For instance, an astounding 57% of fibromyalgia patients reported interictal sensitivity to light, and 48% of people with migraine identified similar issues. This was significantly more pronounced when compared with other conditions, notably post-concussion syndrome (36%) and traumatic brain injury (29%).
---
Fluorescent lighting and flashing or flickering light are a major concern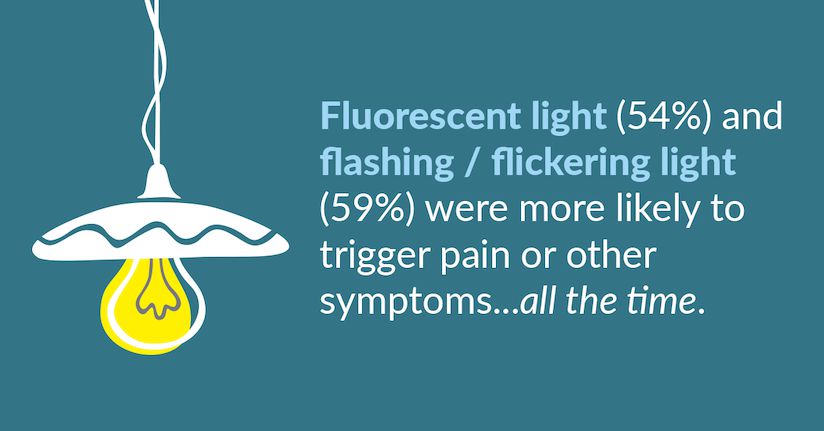 According to our data, the type of light also plays a role in the experiences of light-sensitive patients. More than half of all respondents cited fluorescent lighting and flashing/flickering lights as responsible for triggering or worsening their pain all the time. Although sunlight, computer and phone screens as well as reflective glare all have the capability to trigger attacks, these two sources were most problematic.
Flickering light has been well-documented by research to cause problems for people with chronic conditions. In fact, seizures and migraine attacks can be brought on by just a few seconds of exposure to flickering light.3 Similar issues with fluorescents have been noted by researchers for decades. Studies show that fluorescent lighting can lead to eyestrain and has even been shown to double the number of headaches among office workers.4 Researchers have pointed to the invisible 'flicker' of fluorescent lights as well as its high amounts of blue light as potential causes for these symptoms.5-6
---
Light sensitivity causes people to miss out on personal and professional activities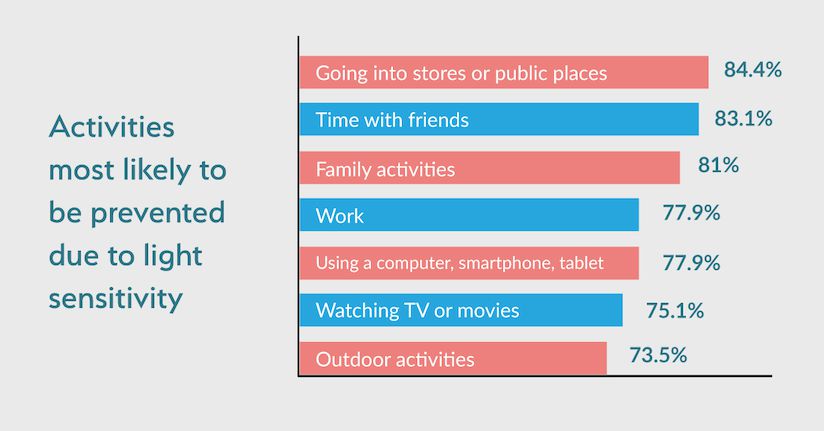 More than 75% of all survey responses revealed that light sensitivity kept them from participating in as many as 12 personal and professional pastimes—from sleep to travel and everything in between. However, certain activities were more likely to be prevented as a result of a person's sensitivity to light.
Going into stores or other public places (84.4%)
Time with friends (83.1%)
Family activities (81%)
Work (77.9%)
Using a computer, smartphone or tablet (77.9%)
Watching TV or movies (75.1%)
Outdoor activities (73.5%)
Several specific comments paint an even more detailed picture of some of these negative outcomes.
"Totally affected by lights. Migraine would last hours after leaving the light source, which would impact all other activities."
"Light bothers me almost every minute of each day. Things I no longer can do are: go to basketball games, watching tv, and using the computer."
---
Light sensitivity is more likely to be a disruption for concussion or post-concussive patients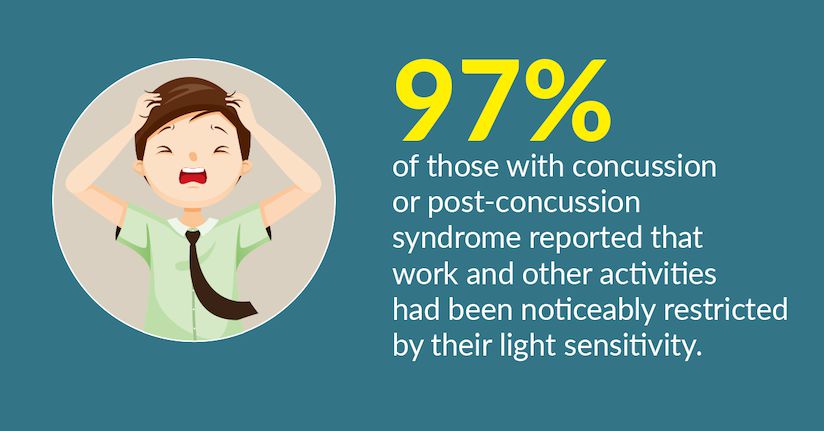 Relative to other conditions, individuals with concussion or post-concussion syndrome, as well as corresponding light sensitivity, may be more likely to experience this loss. 97% answered that time with friends, family activities, and going into stores had been sometimes, often or totally restricted. Amazingly, 100% of concussion respondents believed their light sensitivity had similarly disrupted their job or work responsibilities. These findings are alarming but not all that surprising; studies have shown that persistent post-concussion symptoms—especially those that last for a year or more—can delay a patient's return to work and affect their social lives as well.7
---
A dark room and trigger avoidance are still the most common practices for relief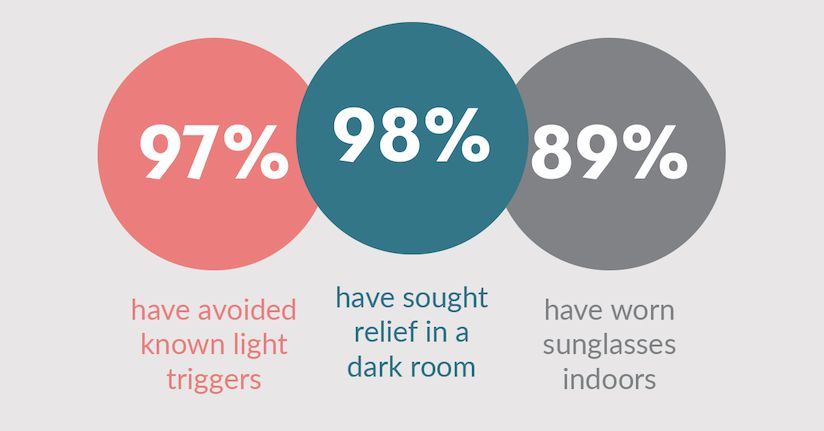 These new findings reinforce existing data that light-sensitive patients most frequently turn to a dark room or avoid light altogether in order to find relief. In fact, 98% of all respondents had previously sought respite in a dark room. And even if they venture out into the light, they often wear sunglasses indoors to prevent the onset of attacks or flares. Unfortunately, many are unaware that these practices can worsen light sensitivity over time as the eyes adapt to the dark. In addition, they often cost patients the chance to live their lives and participate in the activities that are important to them.
---
Tinted lenses are one of the most effective treatments for light sensitivity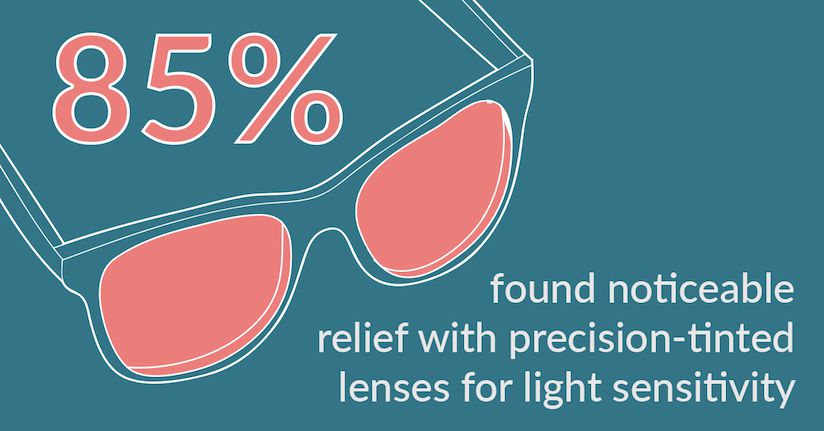 With no known medications and few therapies for direct treatment, the search for light sensitivity relief can be a challenge. However, one option can meaningfully reduce the symptoms: precision-tinted lenses. Of the respondents who had tried special lenses for their light sensitivity, 85% reported they experienced noticeable relief. Unlike a dark room or trigger avoidance, precision-tinted lenses allow individuals to get back into the light so they can do the things that are important to them.
The positive benefits of therapeutic eyewear are supported by clinical research. In one study, nearly three-quarters of light-triggered migraine attacks were eliminated through the use of these glasses.8 Fluorescent light sensitivity was also improved by wearing tinted lenses, and there have been numerous examples of colored glasses helping offer relief for concussion, photosensitive epilepsy and blepharospasm.9-12 Tinted lenses have also been determined to be more effective than sunglasses for two reasons. First, they filter very specific wavelengths of light, which can cause the most pain for a light-sensitive individual. Second, they are tinted much lighter than sunglasses and therefore do not risk worsening light sensitivity when worn indoors.
---
(Click on the image below to enlarge)

Share this Image On Your Site
---
Methods:
Insights from this report were generated from data collected via an online survey of people who self-identified as sensitive to light.
Additional references:
1 Digre KB, Brennan KC. Shedding Light on Photophobia. Journal of neuro-ophthalmology : the official journal of the North American Neuro-Ophthalmology Society. 2012;32(1):68-81. doi:10.1097/WNO.0b013e3182474548.
2 Watson NF, Buchwald D, Goldberg J, Noonan C, Ellenbogen RG. Neurological Signs and Symptoms in Fibromyalgia. Arthritis and rheumatism. 2009;60(9):2839-2844. doi:10.1002/art.24772.
3 Wilkins A, Veitch J, Lehman B. LED lighting flicker and potential health concerns: IEEE standard PAR1789 update. 2010 IEEE Energy Conversion Congress and Exposition, ECCE 2010 - Proceedings. 2010:171-178. 10.1109/ECCE.2010.5618050.
4 Wilkins AJ, Nimmo-Smith I, Slate AI, Bedocs L (1989) Fluorescent lighting, headaches and eyestrain. Lighting Res Technol 21:11–18.
5 Tatsumoto M, Eda T, Ishikawa T, Ayama M, Hirata, K. Light of intrinsically photosensitive retinal ganglion cell (ipRGC) Causing Migraine Headache Exacerbation. International Headache Congress Symposium OR3. 2013 June.
6 Eysel UT, Burandt U. Fluorescent tube light evokes flicker responses in visual neurons. Vision Research 1984;24(9):943-8.
7 Daneshvar DH, Riley DO, Nowinski CJ, McKee AC, Stern RA, Cantu RC. Long Term Consequences: Effects on Normal Development Profile after Concussion. Physical medicine and rehabilitation clinics of North America. 2011;22(4):683-700. doi:10.1016/j.pmr.2011.08.009.
8 Wilkins, A. J. and Wilkinson, P. A tint to reduce eye-strain from fluorescent lighting? Preliminary observations. Ophthalmic and Physiological Optics. 1991;11:172–175. doi:10.1111/j.1475-1313.1991.tb00217.x
9 Good PA, Taylor RH, Mortimer MJ. The use of tinted glasses in childhood migraine. Headache. 1991 Sep;31(8):533-6.
10 Clark J, Hasselfeld K, Bigsby K, Divine J. Colored Glasses to Mitigate Photophobia Symptoms Posttraumatic Brain Injury. J Athl Train. 2017 Jun 26. doi: 10.4085/1062-6050-52.4.04. [Epub ahead of print].
11 Quirk JA, Fish DR, Smith SJ, Sander JW, Shorvon SD, Allen PJ. Treatment of photosensitive epilepsy using coloured glasses. Seizure. 1999 Dec;8(8):444-9.
12 Blackburn MK, Lamb RD, Digre KB, et al. FL-41 Tint Improves Blink Frequency, Light Sensitivity, and Functional Limitations in Patients with Benign Essential Blepharospasm. Ophthalmology. 2009;116(5):997-1001. doi:10.1016/j.ophtha.2008.12.031.
Secure Shopping
60-day return guarantee
Free shipping on US orders