Headaches after a concussion (or mild traumatic brain injury) are one of the most common side effects of a head injury. However, for some individuals, they can become a significant complication that persists long after the initial injury has occurred, developing into potentially chronic post-concussion headaches. Although all presenting symptoms of post-concussion syndrome should be considered in context, we explore post-concussion headaches and their specific impact on patients.
Who gets post-concussion headaches?
Headaches are the most prevalent complaint from patients who have suffered a mild traumatic brain injury. Clearly, they are a common symptom of a concussion, but they can develop into a more serious diagnosis, such as post-traumatic headache (which is defined as persistent headache or migraine for at least 3 months) or post-concussion syndrome (which includes other symptoms such as dizziness and photophobia). Although post-concussive issues arise in about 10-20% of patients after a head injury, studies have shown that these enduring headaches may affect anywhere between 59% to more than 90% of individuals who endure a concussion.1,2 In addition, there may be some mitigating factors that make a person more likely to develop post-concussion headache symptoms. These include:
Age
Sex (specifically female)
Existence of previous trauma or concussion
Prior history of chronic headaches or migraine
Family history of headache disorders
Surprisingly, there is evidence that the severity of concussive injury has an inverse correlation to the development of chronic headaches. In fact, they were more likely to occur for people with concussion (80%) when compared with moderate or severe traumatic brain injuries (27%), according to one study.3 In addition, veterans who experience a blast-induced mild TBI as well as athletes who engage in high-contact sports may also have an elevated risk, but more research is needed to determine a connection, if any.
There is also likely a compounding effect of multiple concussions on headaches and related pain. A 2018 analysis showed that 2 or more head injuries can lead to more frequent and severe headache and migraine attacks as well as total post-concussion symptoms.9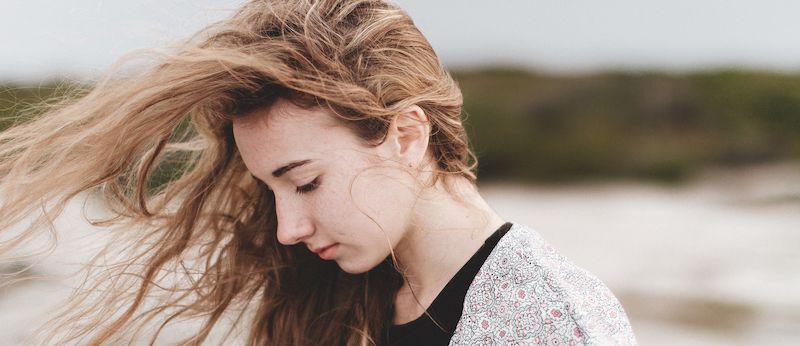 How long do post-concussion headaches last?
It is important to distinguish between the headaches that arise immediately after an injury and those that persist for weeks and months after the concussion. Generally, immediate head pain can manifest within a few hours or days after hitting your head and resolve itself shortly after with proper rest and treatment. However, post concussion headaches and migraines begin within 7 days of the injury and generally last for at least 3 to 6 months. It has even been suggested that nearly a quarter of all headaches after a concussion persist for a year or more.4 This may reflect a possible neurological pathway or cause for post-concussion syndrome; however, there is also evidence that improper diagnosis and treatment (in some cases up to four months after injury) may also contribute to the duration of post-concussive headache symptoms.5
How are post-concussion syndrome headaches treated?
There is no easy or 'one size fits all' treatment for headaches that arise due to post-concussion syndrome, but we can offer some general recommendations and cautions.
Get diagnosed
As noted previously, misdiagnosis and treatment can delay recovery time. Make sure you rule out other serious complications as well as emotional symptoms such as depression or anxiety that can also be part of post-concussion syndrome. In addition, as most post-concussion headaches are probable migraine or tension-type headache, medications and treatment regimens for those disorders may prove effective—such as triptans and topiramate.6 Antidepressants also have some clinical efficacy and may also address some of the prominent emotional side effects.
Avoid medication overuse
There is a litany of evidence that shows opioids and narcotic-based drugs lead to worsening outcomes for post-traumatic or concussion headache patients.7 In addition, even over-the-counter analgesic or pain medication (such as Ibuprofen) can provide initial relief but ultimately lead to a medication overuse or rebound headache phenomenon.
Explore alternative therapies
Another reason it is critical to see a physician for your post-concussion headaches is because he or she can recommend alternative treatment methods that can be beneficial. Non-drug therapies might include guided relaxation or meditation; biofeedback; certain forms of physical therapy; and more.8 We created an in-depth guide on natural migraine treatments, which you can read about here.
Identify other triggers
As with migraine and other headache disorders, there may be external stimuli that are worsening your post-concussive headaches. Sensitivity to light after concussion is a common complaint, so it may be appropriate to reduce your exposure to sources that cause the most pain (e.g. fluorescents or digital screens). Exercise, diet, and loud or unpleasant sounds are just a few other factors that can aggravate your head pain or migraine attacks.
References:
1 Recovering from a mild traumatic brain injury. Brain Injury Rehabilitation Service Concussion Clinic, Burwood Hospital. 13 March 2012. Retrieved from: http://bianj.org/wp-content/uploads/2014/10/recoveringfrommildtbi.pdf.
2 Sharp DJ, Jenkins PO. Concussion is confusing us all. Practical Neurology. 2015;15(3):172-186. doi:10.1136/practneurol-2015-001087.
3 Couch JR, Bearss C. Chronic daily headache in the posttrauma syndrome: relation to extent of head injury. Headache. 2001 Jun;41(6):559-64.
4 Lucas S. Characterization and Management of Headache after Mild Traumatic Brain Injury. In: Kobeissy FH, editor. Brain Neurotrauma: Molecular, Neuropsychological, and Rehabilitation Aspects. Boca Raton (FL): CRC Press/Taylor & Francis; 2015. Chapter 13.Available from: https://www.ncbi.nlm.nih.gov/books/NBK299177/
5 Weiss HD, Stern BJ, Goldberg J. Post-traumatic migraine: chronic migraine precipitated by minor head or neck trauma. Headache. 1991 Jul;31(7):451-6.
6 Erickson JC. Treatment outcomes of chronic post-traumatic headaches after mild head trauma in US soldiers: an observational study. Headache. 2011 Jun;51(6):932-44. doi: 10.1111/j.1526-4610.2011.01909.x. Epub 2011 May 17.
7 Meehan WP. Medical Therapies for Concussion. Clinics in Sports Medicine. 2011;30(1):115-ix. doi:10.1016/j.csm.2010.08.003.
8 Solomon S. Headaches After Head Injuries — Post-Traumatic Headaches.15 Dec 2008. Retrieved from: https://www.brainline.org/article/headaches-after-head-injuries-%E2%80%94-post-traumatic-headaches.
9 Oyegbile TO, Delasobera BE, Zecavati N. Postconcussive Symptoms After Single and Repeated Concussions in 10- to 20-Year-Olds: A Cross-Sectional Study. J Child Neurol. 2018 Jan 1:883073818759436. doi: 10.1177/0883073818759436. [Epub ahead of print]
---
TheraSpecs for Light Sensitivity
Get relief for light sensitivity, migraines, and post-concussion pain. Try our stylish, therapeutic glasses for lasting relief and comfort.